5 Common Mistakes Members Make When Choosing a Coworking Space
This article originally appeared on Coworker.com.
In 2016, I along with a couple of friends from college founded Kickstart in Lahore. The coworking space was formed to revolutionize offices by providing startups and small businesses with a work area where new ideas and ventures could be launched.
At that time, the word 'coworking' was unheard of in Pakistan. Since then, numerous coworking spaces have popped up all over the country. This, in return, has greatly developed the local business ecosystem. However, an array of options have also left the customers confused.
The result: many customers are ending up selecting coworking spaces that aren't ideal for them.
With a lot of available options, customers can't afford to visit every coworking office in the city either. Nor do they have the time to conduct such a wide research. Hence, information is often gathered through websites, social media, and calls.
Keeping in mind this new challenge and the reliance on digital channels to narrow down the search, we have compiled some useful tips that may go a long way in choosing the ideal space for you.
Here are the 5 most common mistakes to avoid when searching for a coworking space.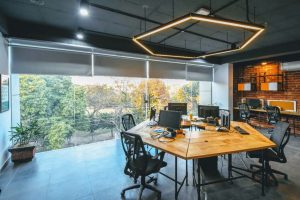 1) Price should not be the ONLY factor
The cheapest available coworking space is the best space, isn't it? Wrong! Comparing just the prices of two offices does not do any good because there are several other factors entrepreneurs need to keep in mind before selecting the best working space. This includes the locality, quality of building and furnishing, spaciousness, and service reliability of the brand.
Prices can vary for two different coworking locations of the same brand or even for two different offices or desks in the same location depending on the above-mentioned factors.
All of these factors directly affect productivity as well the office experience and contribute to the success or failure of a business. Hence, it is highly important to take these into account while making a decision.
2) While comparing the furnishing quality, don't forget to take into account how old a building/property is
You enter a coworking space that has a chic interior you always imagined yourself working in. Without wasting any time, you book that office space. A few months down the line, monsoon season hits and you find the office flooded due to some leakages in the roof. The modern furniture that made you choose the space in the first place is now destroyed.
In order to avoid such disasters, it is essential you research the building selected in detail. First and foremost, factor in the age of the property — brand new buildings will always be better as compared to older properties that could have numerous issues that may surprise you in unexpected ways. This includes faulty wiring and fixtures, faulty plumbing, fire safety hazards, and issues in the water-proofing of windows.
To make a guess on how old a building is, look for the pictures of its exterior on the operator's website or GoogleMyBusiness Listing. Interior pictures can be deceptive when you are looking to determine the age of the property.
These elements also determine how frequently your office will need repairs/maintenance. Though repair/maintenance issues are normally managed by the space operators, frequent upkeep work can disturb your workflow and have a negative impact on the employees.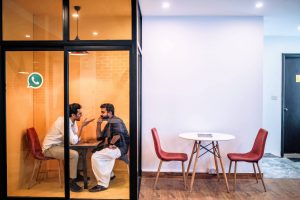 3) Don't underestimate the impact of a 'common area' on a business
You might have found an office space that looks good and has a well-maintained office space. But does that space have common areas where all coworking businesses within the building can gather? The common areas we are talking about include a cafeteria, conference rooms, common rooms, etc.
Now, these amenities might seem irrelevant at first, but they are definitely a necessity for a business to succeed in the long run. This is because employees often need to step away from the work desk to blow off some steam or to simply unwind. Hence, accessibility to common areas where interaction with other employees occurs is essential.
Common areas vary greatly across different coworking locations. For example, at Kickstart Gulberg (62-C2), we have a spacious reception, a huge cafe space, multiple conference rooms, event space, training room, male and female prayer areas, and even a fitness studio. In contrast, we don't provide as many common areas at Work by Kickstart, which is our express location.
This is something you can initially look for on the websites and social media channels of the operators or ask them on call. However, make the final decision only after visiting the shortlisted spaces.
Other common areas needed for certain business to flourish include:
– A spacious and attended reception is a must for a customer facing company.
– Multiple meeting and calling rooms are a requirement for startups.
– Dedicated training and event spaces might be helpful to companies who regularly need to train resources and other stakeholders.
If you are low on budget, keep in mind that an office with common areas is something you will have to sacrifice.
4) Remember, the devil lies in the details when it comes to power backups and the internet
Any space operator you call will assure you that they provide power backup. But did you know the term 'providing power backups' has different meanings to it?
For instance, coworking spaces that charge less only provide a UPS backup that will keep your internet, laptops, and some lights powered. Mid to high budget spaces on the other hand, provide air-conditioning on power backup.
You also need to ask the operators about the reliability of the power backup and the number of power backup tiers. For example at Kickstart locations, we use a three-tier power backup system, with UPS, generators, and backup generators. We have preventive maintenance contracts in place for all tiers to avoid unexpected outages.
Reviews on GoogleMyBusiness listing of the operator can provide you critical information about these aspects. If a space operator has some red flags, those will be highlighted in the reviews.
Similarly, every coworking space boasts of providing internet services. However, that is not the only aspect you should be looking for. Ask the operators which ISPs they use. You can also ask them if they have failover connections since every internet connection in Pakistan will have a downtime.
Service reliability in such cases lies in the availability of failover connections and how seamlessly the network of a space shifts users to other ISPs.
5) Location is king!
Believe it or not, the location of an office space is the single most important variable for many customers. If you are running a business that often requires customers to visit the office, it is advisable to find a coworking space in a central and clean locale. The first impression really is the last impression!
In fact, your hiring pool will also get bigger if the office is located in the central region of a city. This is because the location often increases the credibility of a business. However, whether you like it or not, an office space in a posh location will be more expensive than others. Take it as an investment that will reap delicious fruits in the future.
On the other hand, if you are looking to cut costs, a small location in a fringe locality might be ideal for you.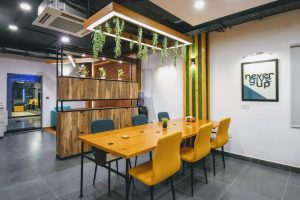 Following are some bonus points to consider after you have narrowed down your search.
1) Service reliability of a brand: You need to take into account the reviews of customers and the standing of the brand you are opting for. GoogleMyBusiness listing has a very cool and convenient way of highlighting the most frequently used words in the reviews. You can click on any tag and read the reviews related to that topic. You can check the reviews on GoogleMyBusiness and social media channels.
2) Past customers of an operator: A coworking space might look perfect upfront, but does it have customers that can vouch for the credibility of the space? Just have a look at the companies or members a certain coworking space has catered to and find out how those businesses have flourished. This will help you analyze how helpful the coworking space you are looking at is in building businesses.
The member base will also give you a clear idea of their service reliability, and you can learn a thing or two from the experience of other companies.
3) Community: Coworking is as much about community and interaction as it is about the quality of service. Think about the kind of people you want to meet and interact with to learn and grow your business. Look out on where they are based and opt for that space.